Tools In the Media
Here's the latest about the award-winning books in the Tools for Today's Educators series

New Book in Award-Winning Series for Teachers Provides 50+ Tools for Great Classroom Instruction and Student Learning
January 16, 2018
Tools for Classroom Instruction That Works, co-published today by McREL International and Thoughtful Education Press, contains more than 50 classroom-ready teaching tools aligned with McREL's extensive research and analysis of the most effective K–12 instructional strategies.
The new book provides a repertoire of practical techniques teachers can use year-round to support high levels of student learning. The book builds on McREL's groundbreaking Classroom Instruction That Works research base and best-selling publications, which revealed nine categories of instructional strategies that have the strongest impacts on student achievement.
READ MORE

Tools for a Successful School Year Wins 2017 Learning Magazine Teachers' Choice Award, IPPY Silver Award
Tools for a Successful School Year (Starting on Day One), from Thoughtful Education Press, wins both a Teachers' Choice Award from Learning® Magazine and an IPPY Silver Award in Education from the Independent Publisher Book Awards in the category of Education. These prestigious 2017 awards recognize outstanding products for today's teachers. (Read the full press release…)
Tools for a Successful School Year Premieres at ASCD 2016 in Atlanta

Tools for a Successful School Year met with an enthusiastic reception from conference attendees at the 2016 ASCD Annual Conference & Exhibit Show. We were so happy that its focus on the Four Cornerstones of Effective Classrooms resonated with both our old fans and those who were discovering our work for the first time.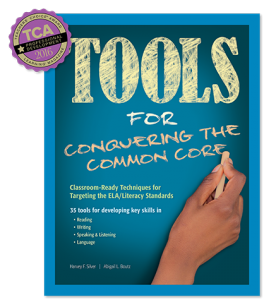 Tools for Conquering the Common Core wins Teachers' Choice Award for Professional Development!
Tools for Conquering the Common Core, from Silver Strong & Associates, wins a prestigious 2016 Learning Magazine Teachers' Choice Award for Professional Development, earning high praise for its teacher-friendly approach to building core literacy skills—while keeping students engaged in meaningful learning… (Read the full article here)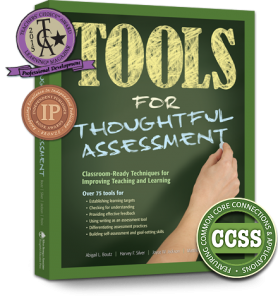 Silver Strong & Associates' "Tools for Thoughtful Assessment" Wins the 2015 Learning® Magazine Teachers' Choice Award for Professional Development
Tools for Thoughtful Assessment from Thoughtful Education Press wins the prestigious 2015 Learning® Magazine Teachers' Choice Award for Professional Development… (Read the full article)
PRWEB - July 24, 2013
Teacher-Friendly Classroom Assessment Book Wins Prestigious IPPY Award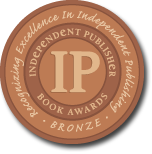 Read Press Release